OUR TEAM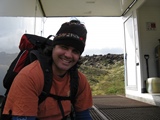 Jared Harding
Programme Manager & Marketer
Jared will make sure that you arrive safely in Plettenberg Bay. He will assist you with all your travel, transfer and other logistical arrangements. Although more involved with the marketing and budget control aspects of the programme, Jared has loads of experience in seabird conservation and rehabilitation. He is an avid diver and qualified marine guide. Jared received his National Colours in scouting and spent 13 months on remote sub-Antarctic Marion Island to collect data on seabirds for the Department of Environmental Affairs.
Melissa Nel
Research Field Assistant/ Volunteer Co-ordinator
Melissa recently joined our time for the year to assists with the research, conservation and education aspects of our programme. She is a passionate ocean lover and as such has always wanted to protect this essential part of nature. This led her to pursue her interest at the Cape Peninsula University of Technology where she obtained a Btech degree in Oceanography. Since then she has worked on Heaviside's dolphins while volunteering with the Namibian Dolphin Project, sailed with the SA Agulhas II to Antarctica to assist with oceanographic data collection and to Tanzania as marine mammal observer to help record sightings. Another highlight of Melissa's career to date is her work on turtle rehabilitation at the Two Oceans Aquarium in Cape Town. During her time there she developed a special love for these beautiful animals that are so dramatically affected by the human race's disregard for plastic pollution in the oceans. Melissa has also pursued Scuba diving to further her career in protecting our oceans and currently has Rescue Diver certification with an end goal of obtaining Dive Master status. For leisure she pursues surfing, bodyboarding, and occasionally free-diving. A real water baby!
DR Chantel Elston
Researcher and Research Program Coordinator
 Chantel grew up in Cape Town, South Africa and has been intrigued by the ocean her whole life. She always wanted to pursue a career in marine science, so she completed her undergraduate in Marine Biology and Ecology and Evolution at the University of Cape Town. Chantel then realized her love for research and carried on with both her Master's and Doctoral degrees at Rhodes University, specializing in stingray dietary and movement ecology. She has a strong research background and has published a number of peer-reviewed scientific articles and has attended both local and international conferences to present her work. Chantel also has experience working in conservation; she worked as a scientist for an NGO in the Philippines where she surveyed coral reef biota to provide biologically relevant recommendations for the designation of Marine Protected Areas. Chantel is passionate about education and outreach and has engaged with the public on a variety of platforms to share her knowledge and passion of the ocean.