June research blog
The elasmobranch egg case project continues business as usual, and while we continue to progress smoothly there are no great project updates!
June has been a bird ringing deficient month unfortunately, with only one ringing session, but what a morning it was! While all birds are interesting, exciting, and special, as a ringer to have a new species in the hand (a ringing lifer) it is always a special privilege. This month it was the red-faced mousebird, and there may have been a happy dance seeing these (3!) amazing birds in the net!
We are, however, very excited to announce that our project investigating microplastic ingestion by game fish in Plettenberg Bay is underway! After some false starts, and lots of reading and research going into refining the methodology we think we have it down. We aim to investigate the incidence of microplastics ingested by various game fish species caught on commercial fishing charters in Plettenberg Bay. We all know how pervasive plastics are in the natural environment, and the varying negative effects of plastics on marine and terrestrial life. While there have been studies in other areas along our coastline, we would like to know what is happening in our beautiful Plettenberg Bay. Many thanks to Enrico's Fishing Safaris for partnering with us on this interesting new project!
June has seen the addition of a new miniSASS site to our list – a site along the Leermansdrif River on Earth Concepts property. It is always great to start monitoring new sites, many thanks to Chris Viljoen for allowing us access!
It has been a privilege to be involved, although on a very small scale, with the African penguin release which took part on Saturday 10th June. We find African penguins out at sea in Plettenberg Bay all year round, and while rehabilitated birds usually get transported to an existing colony for release, it was decided these 5 birds (rehabilitated by Tenikwa) would be released on Lookout Beach here in Plettenberg Bay. This was part of an endeavor to raise awareness for the new penguin colony that is being planned (hopefully) for Plettenberg Bay. It was a fantastic, educational morning with many people gathering to see the 5 penguins off.
June has been a difficult month for many along the Garden Route with the devastating fires. Our thoughts and prayers are with everyone who has been affected.
Written by Minke Witteveen, ORCA Foundation Researcher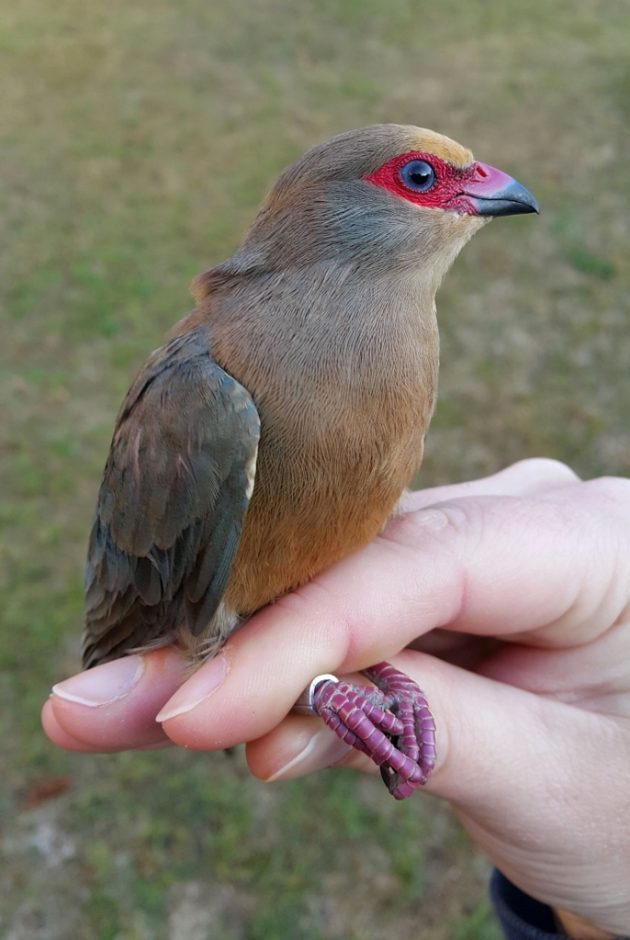 What a beautiful red-faced mousebird.
Cutting out the stomach of a hake
Collecting a sample of macroinvertebrates at our new site.