SIGN THIS PETITION TO REVERSE THE DECISION:
The Minister of Environmental Affairs has announced that she has opened the Marine Protected Area of Tsitsikamma to fishing, which has changed the protected status of the Reserve.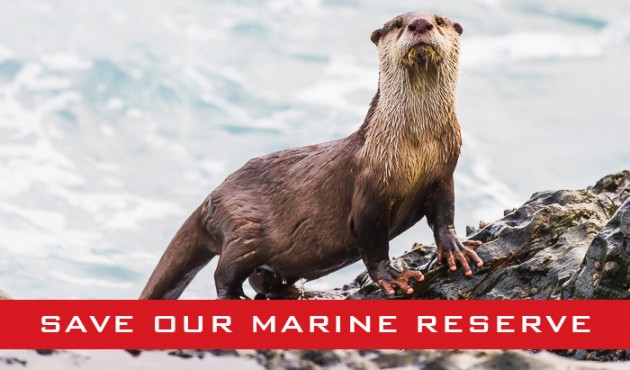 DID YOU KNOW?
This MPA, next door to Plettenberg Bay, is a safe haven and breeding ground for line fish and squid, and is responsible for supplying thousands of kilometers of coastline with new life every day providing essential food for coastal communities.
The Tsitsikamma Marine Protected Area (MPA) is the oldest in the world, established in 1964. A world bench mark that we as South Africans can be proud of.
Fish living in the Tsitsikamma are able to live up to 30-40 years and are the most productive breeders, producing millions of new fish every season. If these 'breeder' fish are taken away by fishermen then it will be decades before they can be replaced.
The government declared our fish stocks to be in a state of emergency in 2000 and now 15 years later the situation is even worse with over 90% of our fish stocks having been removed! The only areas on our coastline that are still productive are the well managed MPA's.
Marine scientists have shown us clear evidence that one of the only solutions to replace fish in our oceans is to declare Marine protected Areas (MPA's), where no fishing can take place at all, and fish can continue to breed undisturbed.
Scientists have stated that our fish stocks can be replenished within 5-10 years if 15% of our coastlines have MPA's, a small price to pay for sustained growth and life for all South Africans.
The solution is obvious – keep the MPA in place!
We, the residents of The Garden Route, Western Cape and the greater Global community object,
BECAUSE:
The local population, local experts and concerned environmentalists worldwide have Not been consulted regarding the proposal to open portions of the Tsitsikamma reserve, as is required by law and the Constitution. "A decision of such magnitude affecting the conservation status of a National Park should be subject to proper process in terms of the environmental legislation such as a 'risk and impact assessment' in terms of ecological, social and economic considerations. The decision negates 'the achievement of equality' as specified in Section 1(a) of the 1996 Constitution of South Africa."
The Minister is making a decision that will have a devastating effect on the greater community –The Ministers decision to override regulations and procedure of our National parks (Marine or Terrestrial) will set a precedent that could be catastrophic for the entire country. Will we see the Minister allowing local people to be able to hunt for recreational purposes in the Kruger National Park? This move by the Minster will discredit our highly valued South African Constitution.
A trial period is NOT necessary and potentially will cause long term damage. – "Huge studies have been done on how catch rates affect productivity of fish stocks. A breeding fish that is over 30 years old cannot be replaced.  All they need to do is read the research. SANParks and DEA are falling over themselves to violate a protected area."
The loss of tourism business and job losses caused by the National park losing its world renowned status. – The WWF report of 2006 reveals how the status of the MPA attracted long term sustainable Tourism and job opportunity. Short term gain from fishing for recreational purposes would lose its value after 3 years when most of the big fish breeders had been removed.
The decision will accelerate loss of fish reserves that are already at critically low levels in surrounding Areas that are also not well managed. Fifty years of solid research and science is clear evidence to back up the impact of fishing in a protected area.
Of the additional Cost of enforcement and improbable implementation of regulation – "Although SANParks does have a monitoring strategy it is well know that they lack the capacity and funding to adapt this strategy to deal with existing illegal fishers let alone the proposed zoning and activities."
We will see the potential loss of a site that represents one of our most precious and important International reserves." The Marine 'Crown jewels' of South Africa."
SIGNED PETITION SO FAR: 8827